WARDROBES
Wardrobes need to be designed in a way in order to reflect your aesthetics and character. We use a variety of modern and classic designs in amazing colours. To achieve this, all wardrobes are perfectly adapted to your space in order to utilize every corner.
Wide assortment of colours and designs
Any colours or two-colour combinations
Solid wood doors with decorations chosen by the customer
Functional, spacious and perfectly styled wardrobes, which make your rooms and your house look beautiful and stylish.
We offer intelligent and ergonomic solutions for a perfect and functional wardrobe:
Special mechanisms (elevators)
Special hangers for ties
Special hangers for belts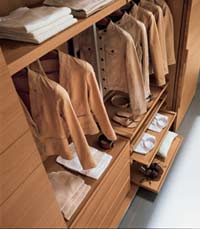 Also, we can change the front of your wardrobe at low cost and make a new one, according to your wishes and the style of your room.